Ondernemers verwarren to do's vaak met doelen.
Ze gaan enthousiast aan de slag met het maken van een to do-lijst en denken vervolgens dat ze doelen voor hun bedrijf hebben gezet.
Herkenbaar?
Het is logisch, want het woord 'do' begint met de letters d en o, net zoals het woord 'doel'.
Maar deze twee zijn niet hetzelfde.
In deze blog leg ik je uit wat het verschil is tussen doelen stellen en to do-lijsten.
Zodat je in het komende jaar nog gerichter kan gaan ondernemen.
DIT GA JE ONTDEKKEN:
Het verschil tussen doelen stellen en to do-lijsten
Wat zijn resultaatdoelen?
Wat zijn procesdoelen?
Wat zijn to do's?
Waarom evalueren belangrijk is voor succesvol ondernemerschap
HET VERSCHIL TUSSEN DOELEN STELLEN EN TO DO-LIJSTEN
In mijn Money Making Impact School en Financieel Mastermind Programma praten we regelmatig over het stellen van doelen.
En dan vooral met focus op resultaat, omzet, scenario's en diensten.
Wat ik regelmatig bij mijn klanten zie, is dat ze het stellen van doelen in het begin verwarren met to do's.
Ze leveren hun doelen dashboard bij mij in en ik zie "doelen" staan zoals 'mailing systeem inrichten', 'Instagram posts inplannen' of 'blog schrijven'.
Dat zijn niet zozeer doelen, maar dingen die je gaat doen, aldus to do's.
Het lijkt logisch, maar vaak zijn het de makkelijkste dingen die het moeilijkst zijn om te begrijpen.
Ik waag een poging om het uit te leggen en neem je mee in twee soorten doelen – resultaatdoelen en procesdoelen – en daarna licht ik verder toe wat to do's nou eigenlijk zijn.
Schrijf je in voor mijn masterclass
In 5 stappen naar meer financieel inzicht in je merk
Doe mee met mijn gratis masterclass en ontdek welke stappen er gegarandeerd voor gaan zorgen dat jij binnen no-time meer financieel inzicht krijgt, een winstgevender merk bouwt en meer financiële rust ervaart.
Op naar meer winst en eindelijk een fijn salaris.
WAT ZIJN RESULTAATDOELEN?
Voor jou als ondernemer zijn resultaatdoelen het belangrijkst.
Dit kunnen doelen zijn zoals '10% meer omzet in het laatste kwartaal' of 'Je gemiddelde review score van 8 naar 9 verhogen'.
Resultaatdoelen hebben altijd een meetbaar getal.
Boven de resultaatdoelen kan je een thema hangen.
Denk hierbij bijvoorbeeld aan thema's zoals omzet, verkopen, kwaliteit of klantenbinding.
Als je bijvoorbeeld het thema klantenbinding kiest, kan je voor een resultaatdoel kiezen zoals 'Het aantal herhaalaankopen verhogen met X'.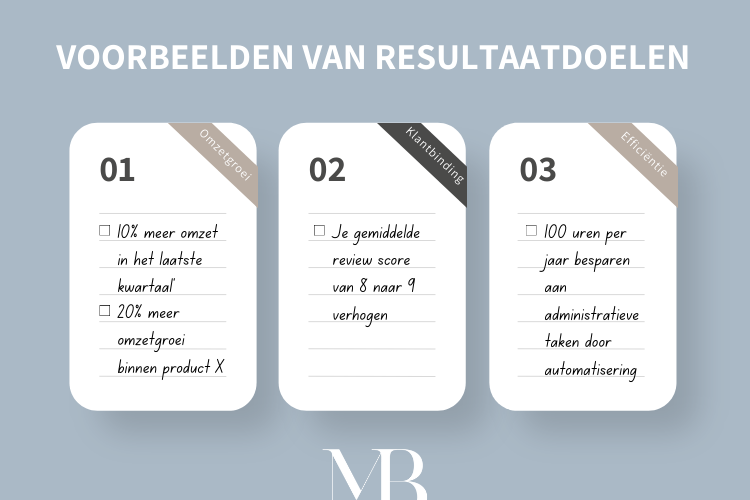 Weet je niet goed welk thema je het best voor je bedrijf kan kiezen?
Als je onder de 10k per maand verdient, kan een van de thema's van je resultaatdoelen 'omzetgroei' zijn.
Kijk daarnaast naar thema's zoals innovatie, systemen optimaliseren, structuur aanbrengen in je bedrijf of efficiëntie.
Vervolgens koppel je onder elk thema een meetbaar resultaatdoel.
Maar hoe ga je dat resultaatdoel daadwerkelijk bereiken?
Daar hebben we procesdoelen voor.
PROCESDOELEN
Het is makkelijk om nu per doel een to do-lijst te gaan maken zodat je het resultaatdoel gaat bereiken, maar met enkel to do's ben je er nog niet.
Want van enkel taken zoals 'je systemen inrichten' of 'een Insta story plaatsen' ga je geen 10k omzet binnenslepen.
Daarom werken we ook met procesdoelen.
Stel je richt je met je bedrijf dit jaar op het thema 'kwaliteit' en je wil het aantal reviews met X procent laten stijgen.
Dan zou je ervoor kunnen kiezen om elke klant na een aankoop om een review te vragen of een X aantal klanten op te bellen met de vraag of ze een video op willen nemen.
Dat zijn procesdoelen.
Een ander voorbeeld; je wil je omzet met X procent laten stijgen.
Dan kan je ervoor kiezen om elke maand te analyseren welk product het meest werd verkocht en op basis daarvan je inkoopstrategie verder optimaliseren.
Of je kan ervoor kiezen om elke week 4 nieuwe retail partners te benaderen met de vraag of je dit product daar mag verkopen.
Ook dit zijn procesdoelen.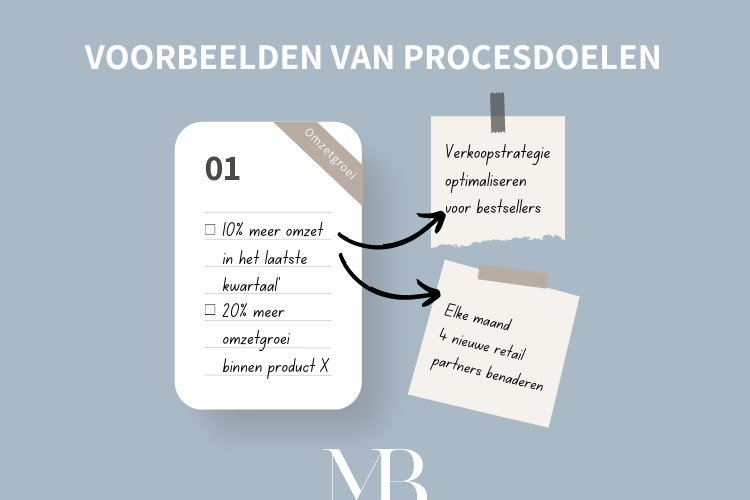 Deze procesdoelen dragen direct bij aan het behalen van je resultaatdoelen.
Zodra je je resultaatdoel hebt bepaald, is het dus belangrijk om ook doelen te stellen die je richting geven in het proces en je helpen om je hoofddoel te behalen.
Wat is dan het verschil tussen procesdoelen en praktische to do's?
Immers ben je toch iets 'aan het doen'?
WAT ZIJN TO DO'S?
To do's zijn de taken die je onder een procesdoel koppelt.
Stel je wil meer bedrijven benaderen om je product daar te kunnen verkopen.
Dan moet je eerst de gegevens van de bedrijven opzoeken zodat je ze kan benaderen.
Daarna zet je alle gegevens in een bestand, zodat je uiteindelijk de stap kan nemen om contact te zoeken.
De kleine taakjes voorafgaand aan het uitvoeren van een procesdoel – dat zijn je to do's.
Want je kan wel de gegevens bij elkaar hebben gezocht en in een bestand hebben gezet, maar dan is in principe alleen maar je to do-lijst afgevinkt.
Daar ga je niet meer omzet mee behalen.
Pas als je de potentiële retail partner hebt benaderd, kan je zeggen dat je je procesdoel hebt bereikt en actief stappen hebt gezet om je resultaatdoel te behalen.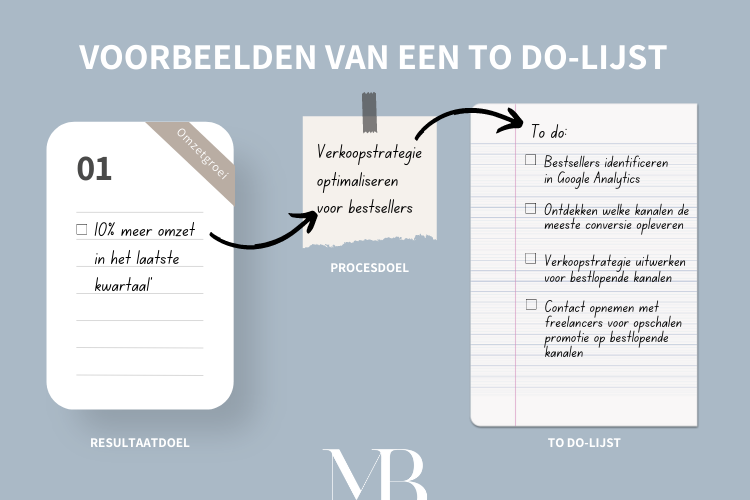 EVALUATIE IS DE SLEUTEL TOT SUCCESVOL ONDERNEMERSCHAP
Nu kan je denken dat het maken van een plan inclusief resultaatdoelen, procesdoelen en concrete to do's voldoende is om een succesvolle ondernemer te worden.
Was het maar zo, dan zou iedereen wel ondernemer worden.
Als goede ondernemer is het belangrijk om regelmatig te evalueren; hoe staat het ervoor met mijn procesdoelen?
Dragen deze zoals verwacht bij aan het resultaatdoel?
Of is het verspilde tijd?
Moet je de procesdoelen optimaliseren?
Zijn er andere procesdoelen die je beter zou kunnen uitvoeren?
Dit zijn vragen die je tijdens een evaluatie aan jezelf kan stellen om steeds gerichter stappen richting je resultaatdoel te zetten.
Lees ook: In 3 stappen je inkoop budget bepalen
ZELF AAN DE SLAG MET DOELEN STELLEN (EN BEHALEN)?
Wil je naar aanleiding van deze blog zelf aan de slag gaan met het stellen van resultaatdoelen, procesdoelen en concrete to do's, maar weet je niet goed waar je moet beginnen?
In de Money Making Impact School leer je om financiële doelen te stellen die bij jou en jouw bedrijf passen, zodat je gericht stappen naar een succesvol(ler) bedrijf kan zetten.
Door middel van financiële inzicht ga je bewuste keuzes maken die bijdragen aan de groei van je onderneming.
Nog niet 100% zeker of de Money Making Impact school wat voor je is?
Vraag geheel vrijblijvend een gratis strategiegesprek met mij aan, waarin ik samen met je ga kijken waar er nog kansen voor je liggen voor meer bedrijfsgroei.
MEER OVER DOELEN STELLEN LEREN? BELUISTER DE PODCAST: